Rental Policies
Rates for all one-bedroom cottages are based on double occupancy (up to 2 people). Our comfortable cottages are for adults and children 13 years of age or older. Our property is completely non-smoking and pets are not allowed.

The Florida 6.5% sales tax and 5% cottage tax will be added to all rates.

Rates are subject to change without notice.

Occasionally, depending on how our bookings "fall", we may have an opening for a shorter time span than our regular required minimum stay. Please call or email for any available specific dates. We do not rent for less than 3 nights anytime of the year.

Check-in time is 3:00 p.m. Check-out time is 10:00 a.m.

There is ample parking on site.

Smoking is not permitted anywhere on our property. Our guests are assured a clean environment, free from smoke.

Pets are not permitted on our property. No exceptions. Our guests are assured a clean environment, free from pet dander, hair and unpleasant odors. Therapy dogs are permitted and to please let us know in advance of their arrival at the time of booking so we can inform other guests.

Fish cleaning/filleting or discarding bait or bait water is not permitted on our property. We are not a fish camp. Our guests are assured a clean environment, free from the lingering, offensive odor.

There will be an additional charge on your credit card for any missing or damaged property, the need for excessive cleaning, or overly soiled linens.

An advance deposit on a Visa or MasterCard in the amount of 50% of the total cost of your stay is required at the time of booking to secure your reservation with the balance due on the scheduled day of arrival.

A cancellation within 90 days of scheduled arrival will result in forfeiture of deposit(s).

There is no refund for late arrival or early departure.

Full deposit, less $200.00 fee, will be refunded if within applicable cancellation time frame, 91 days or more before scheduled arrival.

If your stay includes both off-season and mid or high-season nights, the high-season deposit and cancellation policy will apply.

If a request is made to change a secured reservation to a shorter term, (canceling a portion of the reservation), we reserve the right to cancel the reservation. The cancellation policies and fees stated above will apply to the entire, originally secured reservation.

We accept reservations up to twelve months in advance.

By securing a reservation with us, guests agree to indemnify and hold harmless Parrot Nest from any liability for personal injury or property damage sustained by guest, or parties invited onto property by guest, as well as any and all bodily injuries to guests and/or visitors of guests.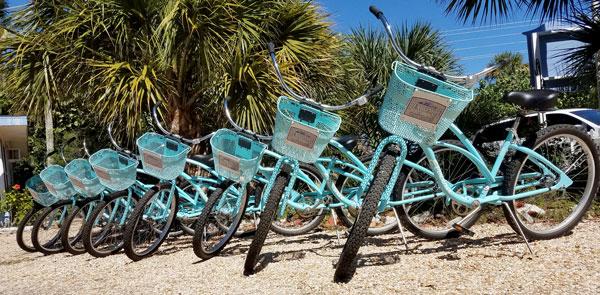 This includes, but is not limited to, the use of bicycles and adult tricycles, which are provided for use only by registered guests of Parrot Nest who are physically fit, competent, and not impaired by drug or alcohol use.

Hurricane Policy:

If a named Hurricane is officially tracking to Southwest Florida, and a mandatory evacuation is ordered during your stay, we will issue a refund for any unused nights you had previously scheduled with us.

We gladly accept cash, traveler's checks, Visa and Master Card. Thank You!